Platteville United Methodist Church is made up of singles, couples and families: children and teens, and young, middle and older adults. Some of us have been members for 60 years. Others are new to our community. We would love to welcome you to our church family as well! Hope to see you soon!
PASTOR BRENDA
​Lead Pastor
Reverend Brenda Whitford has been the pastor at Platteville United Methodist Church since January of 2011. Her passion is making disciples of Jesus Christ. She loves to see people come to Christ and grow deeper in faith. She is thrilled to be able to be in ministry with a congregation that loves God, is growing in love of one another, and is committed to making a difference in the world in the name of Jesus Christ! Pastor Brenda is an ordained Elder in full connection in the United Methodist Church. Her Master of Divinity Degree is from the University of Dubuque Theological Seminary. Pastor Brenda previously served Centenary United Methodist Church in Shullsburg, WI. Before becoming a pastor, Brenda taught 5th & 6th grades in Beloit, WI and 4-year-old preschool in Janesville, WI. Brenda loves music, and especially loves to sing and dabble on the piano. Brenda's husband Dan is a lay supply pastor serving the Blue River and Avoca churches. Their daughter Elizabeth is also a pastor serving First UMC of Appleton. Their son and daughter-in-law make a difference in the lives of people outside the church. They have ​one granddaughter. ​ ​
April Brandt
Communications Specialist/Administrative Assistant
April is a native of Southwest Wisconsin. She was born and raised in Darlington. April graduated from Southwest Tech with degrees in both Graphic & Web Design and Business Management. When she is not working, she is spending time (and wedding planning) with her fiance, Tucker. She also enjoys spending time with family, and friends, reading, watching movies or cuddling with​ her mini-dachshund, Flynn.
Ellen  Carnahan
Sunday School Superintendent
Ellen and her husband, Dave joined the Platteville United Methodist Church in 1979, and they have both been involved in many activities and committees since then. She has been teaching Sunday School at the preschool, kindergarten and 1st grade level for 33 years. In 1982, Gail Trouten called to ask Ellen to teach the preschool class….she was a teacher who at that time had only taught 3rd and 4th grades. She told Gail she didn't know anything about preschoolers! Gail assured her that, since she had a 2-year-old of her own, she did indeed know about that age group. That phone call changed her life! Ellen found that working with young children was her life mission, and she has thoroughly enjoyed interacting with young students in Sunday School classes and VBS programs ever since. She now has the children of some of her first Sunday School students in her classes! Since 2011, she has been acting as the Sunday School Superintendent for our Church.
Nancy Fairchild
Organist
Nancy Fairchild has been our organist since 1982. As the story goes, she was 'stolen' from the Lancaster United Methodist Church where she had served as their organist for only 7 years. In her spare time, she teaches instrumental music and music theory at Platteville High School. In addition, she taught Elementary Music Methods courses at the University of Wisconsin Platteville from 2000-2016. Besides music, she enjoys traveling, swimming, training for triathlons and spending time with her family, husband, and her grandchildren.
Deb Putnam​
Mallow Ringers Director​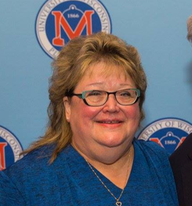 Deb has been an active member of the United Methodist Church for 38 years. She graduated
from UW-Platteville with a music education degree and was hired in 1978 by Rev. Richard Jones to organize two hand bell choirs—Junior and Senior. She has been director of the hand bell choirs for over 30 plus years. In the 1990s, several high school hand bell choirs were formed and participated at the District and State levels of Solo & Ensemble contests. The Mallow Ringers have been to two national hand bell festivals, have played at weddings and funerals, ​performed ​many concerts and​ participated in numerous ​worship services in area churches.
Dean Goninen
Redeemer Director​
Dean was a member of the Contemporary Praise Band for over 7 years at Platteville UMC and now leads the youth praise band Redeemer as they approach their 10th year. Dean enjoys giving youth an opportunity to serve the church in a fun and unique way that utilizes their talents and helps them grow into great young adults. For nearly 20 years, Dean has worked at Lifeline Audio Video Technologies in Platteville, now as the Operations Manager. Some may not know that Dean also has been a voice on local radio for over 30 years in southwest Wisconsin.